Tips from a Dallas/Fort Worth Wedding DJ for those wanting a personalized event that culminates with an epic dance party.
DJ & Lighting: Dan Quinn- DQB Entertainment
Venue: The Modern Art Museum of Fort Worth
Photos: Peyronet Photography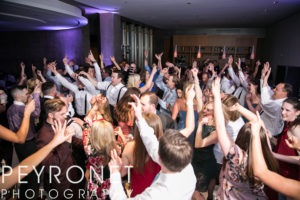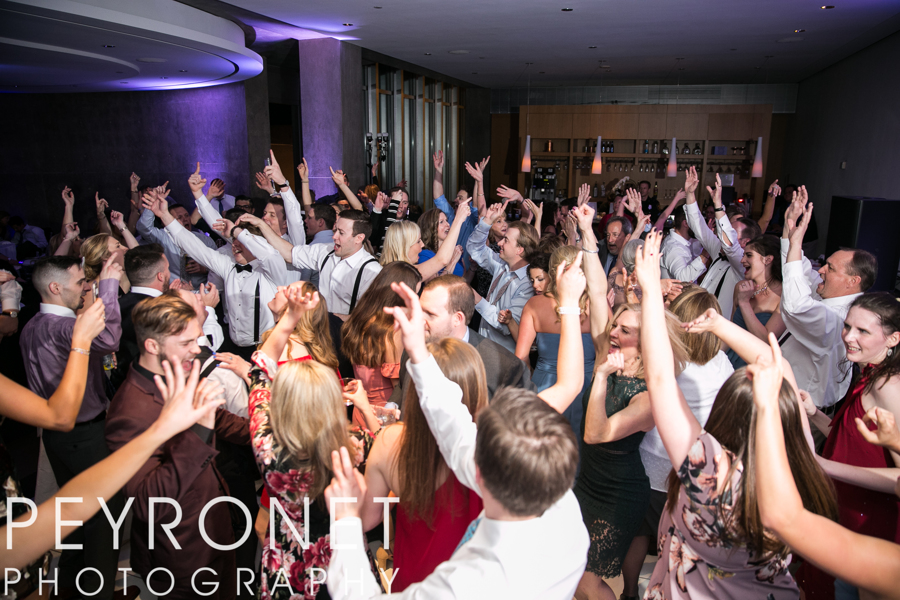 I know you've all been hitting refresh on this site waiting for this piece right here- the dramatic conclusion to the 2-part epic tale of Austin & Kelly's wedding.
Seriously though, if you haven't already, go back and read Part 1 because THIS is how the perfect wedding goes down in 2018. The previous blog told the story of the night- a recap of all of the highlights, a few pics from my iPhone, and a general tale of all the greatness and debauchery that happened that night for these two wonderful people and their families and friends.
So let's go behind the scenes and talk about WHY this was such an epic night. I write this with a few groups of people in mind- Austin, Kelly, and their families (as a nod to their greatness), my fellow event professionals who want to create something similar, and most of all, to anyone out there who is engaged or just planning a party and doesn't know where to start. Most people have never hired a wedding DJ before. Really. Think about that. We could talk prices and song selections all day (the most common first questions I ever hear), but there are so many other factors below that I have found REALLY make all the difference in the night. Enough blabbing. Let's go.
Here's what led to Austin & Kelly's wedding being one of the most successful, personal, touching, and insanely fun weddings that I've ever seen, culminating in a freaking amazing all-hands-in-the-air dance party: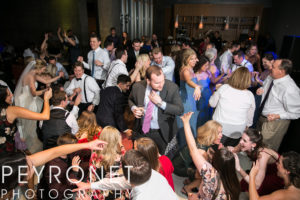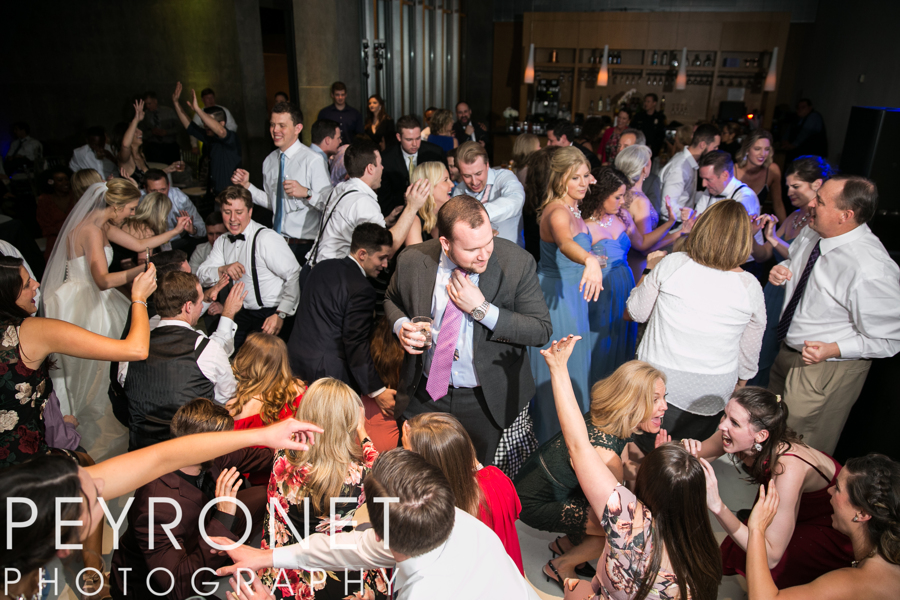 Relationships and Trust– If you don't build a trusting relationship with your Wedding DJ (or any vendor for that matter), it's going to be an uphill battle. Those relationships take time and usually can't be forged over email or through Google Forms. Not only had I met Austin 3 years ago at his brother's wedding, but we also spent a lot of time together before his big day with Kelly. Our first meeting had no agenda. We met up for drinks, and 2-3 hours later we walked out feeling like friends. We knew a lot more about each other, our stories, our families, and trusted that we were on the same page with each other about where we wanted the night to go and we had each other's best interests in mind. This made the rest of the planning incredibly easy, and the pieces started to fall into place. Speaking of planning…
Plan, plan, and plan some more– Great jazz musicians may pick up their instruments and improvise something on the fly that they've never played before (Just like the DJ set I played for Austin and Kelly was unique). But the reason they can do that is because they have spent years and years learning to play by the rules, only so that they can intentionally break them, painting a picture along the way, with an ultimate goal in mind. The same goes for your Wedding DJ. In addition to 2 meetings and a site survey at the venue, Austin, Kelly, and I spent a lot of time planning their timeline over email and phone calls. We tweaked things here and there, played scenarios out in our heads, added songs that had to be played and others that should never be played, and inked it in it's final form for the big day. And then we broke that plan a few times- because we could (see below)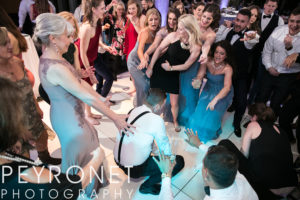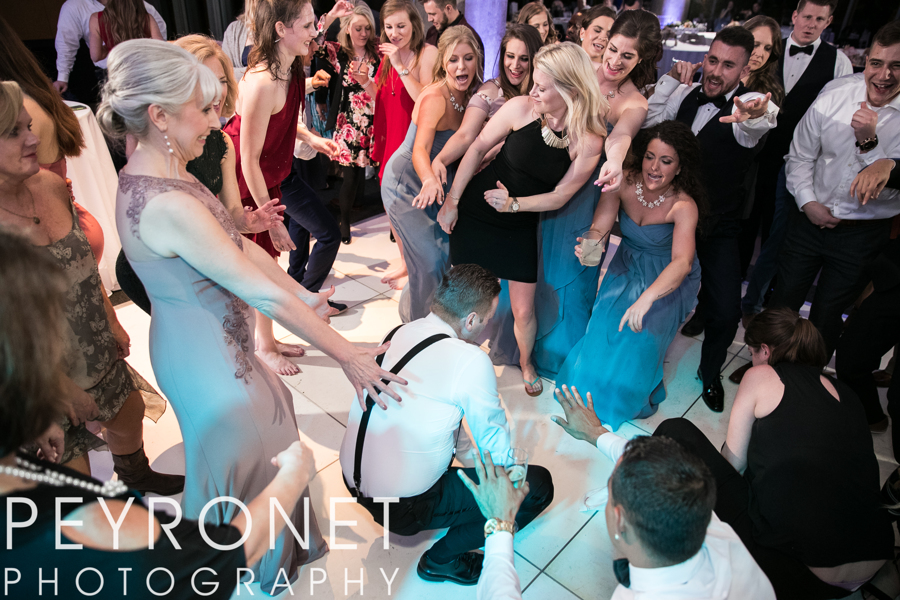 Make it Personal and Be Present– I'll admit that at one point in my mid-late twenties, I grew a bit disenchanted as a frequent wedding guest. I was at the age where I'd see 6-10 wedding invitations per year, and more often than not wouldn't hear a word from the bride and groom all night, let alone get the chance to really celebrate with them. I'd watch the ceremony from my seat, head off to a cocktail hour in one room while they took photos, then off to my assigned seat for dinner while the bride and groom ate in a separate room or at their private sweetheart table, and then watched a lot of formalities unfold until maybe we got to dance for an hour or so at the end. Here's what Austin & Kelly did that worked so well- Right after their grand entrance and immediate first dance, Austin took the mic and got really personal really fast. He expressed how much it meant to him and Kelly that everyone was there to celebrate with them on the one and only night that this group of people would ever be in the room together. He stated his intentions very clearly (that we had a lot of dancing to do tonight) and that he'd see everyone on the dance floor- and then after eating dinner? Instead of taking 45 minutes to make the rounds to every table in the room while the guests sat around, Austin and Kelly came straight back to the dance floor, where every guest in the room was welcome to come to them- and of course to start shakin' it. When they DID have to step out with their photographer for a quick nighttime shoot, they not only had the tunes pumpin' but had hired an illusionist to entertain guests that weren't quite ready to dance. This guy was HIGHLY interactive and extremely talented- and was a wonderfully creative touch by Austin and Kelly to make their guests feel welcome and appreciated.
Light it Up!– My friend Paul says it best- you've probably never been to a wild dance party at a Luby's Cafeteria. I've actually never been to an anything at a Luby's Cafeteria, but the important point here is that lighting is a CRUCIAL element in creating a high energy dance environment. In the case of this room, we had a lot of white space to work with- particularly a very long white wall that stretched all across the room- probably at least 60 feet. While this was a fun bunch who probably would have danced anyway, there's no question in my mind that using intelligent uplighting completely upgraded each guest's experience from the moment they walked in the room. You know that moment when you walk into a space for a big night and think "Oh boy, this is gonna be fun"? Yeah, it was that kinda night. The back wall, entryway, and pillars were all illuminated in elegant amber that matched the theme of the reception. And when the dancing started, the synchronized lights were set to pick up on the beat of the music and dance accordingly on the walls. Colored lighting is scientifically proven to enhance human emotions. And moving lights that change at a certain frequency (i.e. 120 bpm or 0.5 Hz)? A whole new set of emotions. These lights are not only wireless, battery powered, synchronized, and can be placed anywhere in the room, but they'll never shine in anyone's face. Everyone stays comfortable as the room dances, they're inspired to dance too, and there are no crazy color blobs on anyone's face in your photos (Photographers hate that too, and DJs should be very nice to photographers).
Room Layout- It's quite simple. If you want a crazy dance party, keep the Dance floor, DJ booth, and Bar in the same place. Really, it sounds so simple, but it amazes me how many people don't plan for this. I've played at so many events where there are tables directly in front of the DJ booth (specifically in front of my 6000 Watt Sound System) with the dance floor 50 feet away. You don't need to be an event planning expert to see why this could be a nightmare. I've played at events where the bar is in a completely different room, so of course, where are people tempted to gather and converse when they run into each other getting a drink? I've heard of DJs being placed on balconies completely above the crowd. Whaaaaaat??? Save that for the VIP bottle service clubs. Oontz Oontz. A great wedding DJ needs to watch every move that's happening on the dance floor, and sometimes even needs to get out from behind the booth and be interactive as an MC. Proximity to the dance floor is a must, and Austin and Kelly planned this accordingly.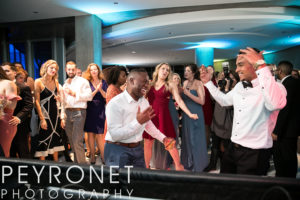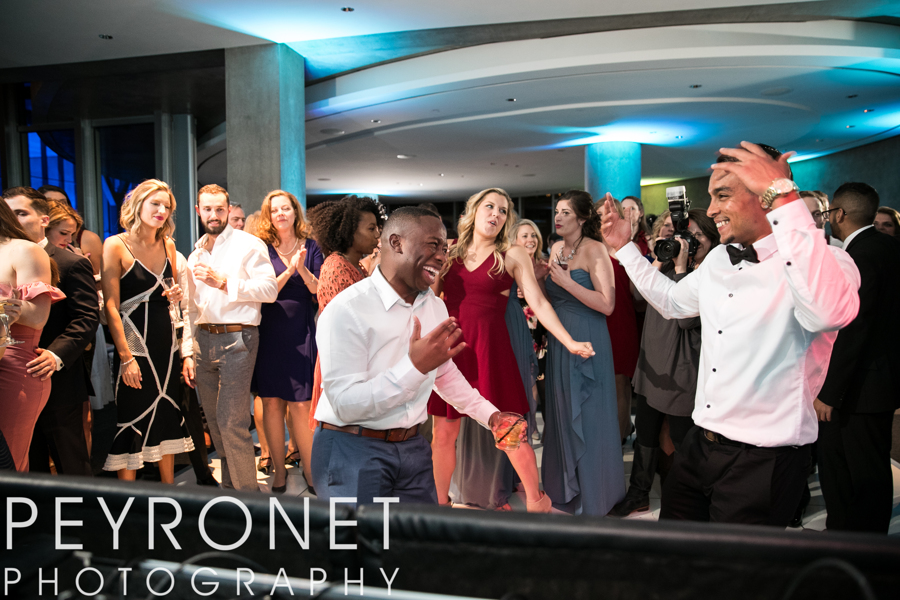 Minimize Distractions– Photo booths are great. Lawn games like cornhole and jenga are a blast. But what happens if you have too many options for your guests (maybe even in multiple rooms) when what you really want is a few hours with everyone you love dancing together and celebrating? Especially during months with nice weather, it can be really tempting to set all of these things up for your guests. But my suggestion? Keep the lawn games to cocktail hour. Maybe the same with the photo booth, or if you're going to keep it all night, at least keep it close to the dance floor. If you don't spread everyone out, you have a much better chance of getting everyone out on the floor together. In the case of Austin & Kelly's wedding, we packed everything into a single room- come to think of it, we got a freakishly cold rainstorm that night, which meant nobody, had any desire to step outside- and the lesson learned here? Keeping everybody in one space yields amazing results! Fun Fact- we had more people dancing than could fit on the dance floor, and for much of the night, photographers had to stand on chairs outside the floor to get the photos they needed.
Be Flexible, and Pick Vendors that Are Too. I recently lost (?) a wedding opportunity because a groom asked me how I felt about adhering strictly to the schedule and song order that he and his bride would lay out for me. I answered that I would absolutely do my best to adhere to the schedule and would even work with them to help develop it and put some though behind it- but the truth was that when their big day came along, there would be so many moving parts and human factors that I wouldn't be able to control, and he'd need to understand that flexibility and adjustments to the people in the room would be clutch in any event. He wasn't having it. Poor dude. I hope his party turned out OK. You can't force things to happen when the moment isn't right. It's the scheduled time to cut the cake, but the servers aren't ready yet? Don't push it. Toasts aren't scheduled to happen for another 20 minutes, but everyone's done eating? Why wait? Get that champagne poured and go! A good team of vendors will communicate with you (and each other) throughout the event to make sure things move along smoothly and keep everyone comfortable. Which brings me to…
Don't Stop The Train! I can't preach this enough. You've been looking forward to this moment all your life. Planning everything out with your Wedding DJ or band, photographers, family and friends. You're freaking married! All the people you love are in the same room together, dressed to the nines, grinning from ear to ear, laughing, heels off, hands in the air, singing the chorus to Lil Jon's "Get Low" at the top of your lungs- it's that moment that took so long to build and right now is like a freight train flying along at 200 miles per hour. Why in the WORLD would you ever try to stop this thing? If you're having the most amazing moment of your life, don't stop it. The garter and bouquet can wait. That slow country song that Uncle JimBob wants should have been played during dinner or right after cake. And at this point, anyone who expects you to shift gears is just being selfish. This night, and more specifically this moment is about YOU and nobody else! Don't stop the train when it gets going. Ride it, ride it, and ride it off into the night until you can't go anymore- because like Austin told everyone when he and Kelly walked into the room- you only have one night like tonight. Make it count.
DQ