In my (very large) family, it's Uncle Greg. Who's yours?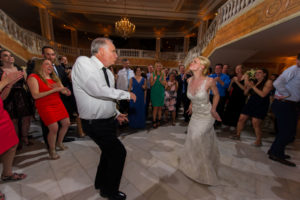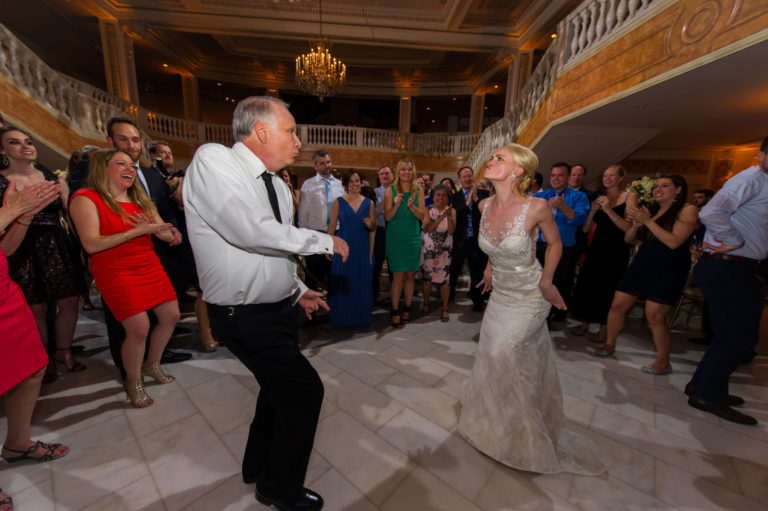 I find that almost every wedding I play (whether I'm playing live music, playing DJ, or both) has a celebrity on hand. No, I'm not talking about Jay-Z, Beyonce, Kanye, or Lebron, but rather someone that can have a HUGE influence on the energy level of your party and take your wedding (or really any event) to the next level.
Looking back on my 37 years on this planet, I've been to a lot of weddings. Like, "Awwwww, 27 Dresses? That's cute" number of weddings- and way before I ever started taking control of the decks in the DJ booth.
I come from a huge family where I'm one of 27 grandchildren on my mom's side alone. I'm on the younger end of the bunch, which means that growing up, I got to see so many cousins get married- from my earliest memories in my elementary school years to my "oh hey, nobody's checking my ID at the bar, this is awesome" college years, family weddings were always crazy wild productions with a few hundred people on hand, and a great band pumping out the classic hits (this was in the Northeast in the 80s and 90s- long before Wedding DJs were the norm), and before we even loaded up into the wood paneled station wagon to make the drive, I always knew we could count on one thing- Uncle Greg was gonna do his thing.
My Uncle Greg and Aunt Mary just celebrated their 45thwedding anniversary (yeah!) and this of course led to some old photos making the rounds on the socials. One photo that tells the start of an incredible story and a lot of my approach to weddings really stood out.
Mary & Greg's wedding reception was in the backyard of my grandparents tudor house in Yonkers, NY. Affectionately known as "The Pope" and "Mother Superior", Grandma and Grandpa were staunch Catholics but respected the new generation of kids that were coming of age in the early 70's, and more than anything, loved their kids- so with the exception of a few guidelines, weddings were about what the bride and groom wanted, and that's where a great tradition was born back in 1973.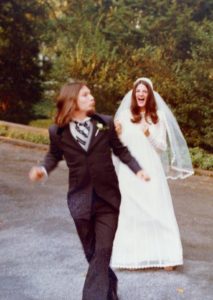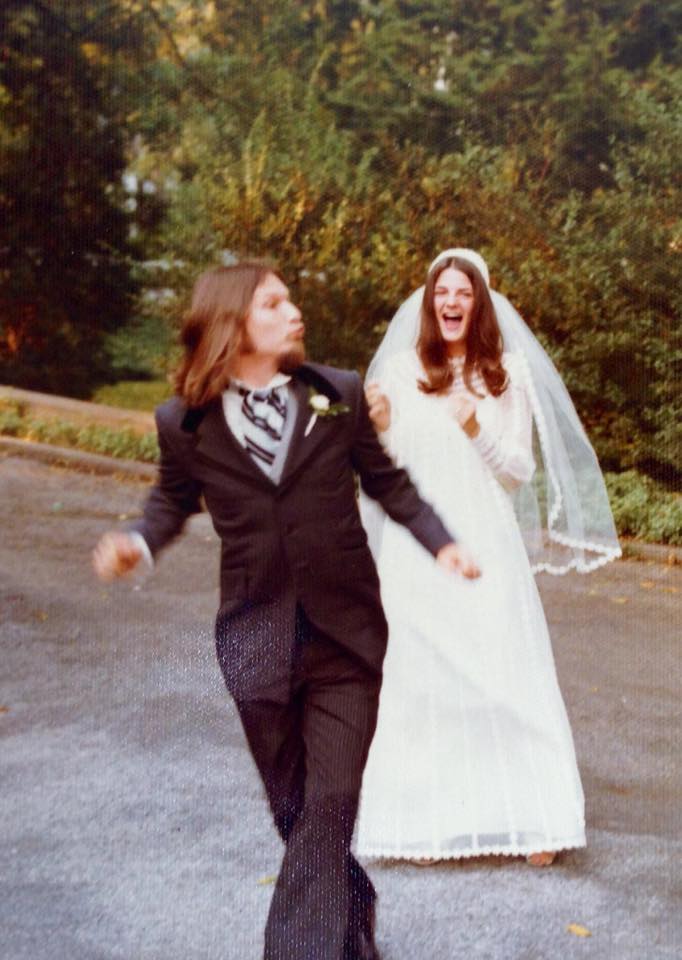 It was time to open up the dance floor (the flat part of the asphalt driveway that doubled as the family basketball court), and Uncle Greg's friends had made a reel-to-reel tape of their favorite tunes to get the party started, (Remember, this was long before Wedding DJs were a thing!) and the first tune on the tape? Jumpin' Jack Flash. Mary and Greg took to the dance floor and began a routine that would become known as "their song" and so much more for decades to come. Greg truly had the Moves Like Jagger– puckered lips, rockstar strut and all. And while a few of the older guests weren't impressed, siblings and friends soon joined in, a dance party broke out, and without even knowing it, a new tradition had been born.
Years later, "Mick" made another appearance during the late night hours of a family Christmas party. Then soon after at a family wedding- and another- and another- until it was a given that Uncle Greg would be dancing with the bride at any Feeks family wedding he was invited to.
Jumpin' Jack Flash has now become a bit of a family anthem. Countless wedding bands have been instructed to learn it- or a copy of the track was to be on hand to be played during breaks. Or if my cousin John and I were messing around on guitars at Christmas, you could bet we weren't done until we played it and Greg took center stage while everyone sang along with wine glasses hoisted overhead.
So where am I going with all of this? As a Wedding DJ, I sit down with all of my couples before the big day and just initially take some time to get to know them. We talk about weddings we've been to, what we've enjoyed, and what we haven't, and I almost always tell the legend of Uncle Greg and how Mick Jagger always makes an appearance at our family's weddings.
Which begs the big question….Who is YOUR Uncle Greg?
It doesn't need to be a Mick Jagger impersonator, but maybe you have cousins who can breakdance? A groomsman who does the worm? A friend from college who can really sing? Your brother who can shred a mean guitar solo and could jump in with the band for a song or two? If you have a wedding guest with some skills and they don't mind showing off, give them their moment! No matter how good your DJ or band is, there are few things more powerful than legit entertainment that comes from the guests themselves at any party.
During a recent acoustic dinner set at The 4 Eleven in Fort Worth, I had a husband & wife folk singing team tear down the house with a guest performance. Just a few weeks ago, the groom's niece wowed the crowd by singing their first dance (and an encore) as I played guitar on the Reata rooftop. And a few months back, I had a pair of Michael Jackson impersonators take over the dance floor at The Modern Art Museum of Fort Worth. Throw in some disco-loving aunts & uncles, breakdancing kids, and teens who have memorized every "challenge" dance from their favorite YouTube stars, and it's been an amazing year of highlighting some real superstar guests.
What does this do? It creates community. Lines between entertainers and guests are blurred, and now EVERYONE is comfortable cutting loose. I've seen it open doors for others to come out of the woodwork with their moves too. Think about when that circle organically forms and guests take a turn with the courage to jump in while everyone cheers them on. That's way more powerful than a bandleader, DJ, or MC yelling "Get your hands up" or "Is everyone having a good time out there tonight"? It stimulates energy organically, makes people feel comfortable in their own skin, and maybe even encourages them to show off too. This is what a true party is all about- the guests don't just show up to be entertained. With some proper planning and the right cues, your guests BECOME the entertainment. Then as your DJ, it's just my job to keep feeding that monster that we've all collectively created.
So as you're thinking about your wedding day, thinking about who's going to be there, and wondering how to get everyone on the dance floor, think about Uncle Greg, those Moves Like Jagger, and how you may be able to shine the spotlight on one of your guests.
Not even sure where to start thinking about your wedding? Get in touch and we'll help you out. Even if DQB isn't the right fit for you, we'll point you in the right direction and help you make sure that your big day is an incredible one to remember.
DQ