NAMM 2016
ANAHEIM, CA- Thanks to my friends at QSC,
I just had the chance to attend the biggest music conference in the world- The NAMM Show! With over 99,000 attendees expected throughout the weekend,there was sure to be no shortage of excitement, technology, jamming musicians young and old, celebrities, knowledge, and passion for great music all pouring into the Anaheim Convention Center from Thursday through Sunday. My wife and son decided to tag along for some SoCal sunshine and fresh seafood, so we caught an early Friday morning flight from DFW to SNA, dropped our luggage at a great boutique hotel in Newport Beach, and I was off to the convention center!
Having my first taste of NAMM from Nashville's summer edition back in July, I thought I had a pretty good idea of what to expect, just on a much larger scale. My engineering brain and business brain were both fully engaged and I went in with a mission!
There's no secret that I'm looking to change up the live DQB show a bit in the near future. While effects and looping will always remain at the heart of my live shows, the technology that I've been using is growing a bit antiquated. Conventional analog effects pedals are great for a vintage tone seeking lead guitar player, a session player, or a guy who simply plays a role in a band, yet adding multiple dimensions and performing as a one man band on a bigger stage requires a more sophisticated approach.
I spent 10+ years working at National Instruments, where software modeling, virtual instrumentation, and tight integration with hardware were proven as technology trends that were not going away, and it's time to start applying that to DQB. With software at the core of my performances, I'll work with a platform that will allow for maximum performance and flexibility, with the ability to scale my show to larger venues.
My goals at NAMM were to understand the latest technology trends, to test drive some new gear, to hear from some experts, meet some interesting people, to be humbled by incredibly talented and intelligent people, and to come home inspired and ready to take the next steps in my live show. Mission accomplished!
I walked in completely intimidated. Nashville didn't prepare me for this. I was surrounded by all walks of life, yet it really felt like I was surrounded by more industry experts and rockstar types than I ever had been- long hair, dyed hair, long beards, dyed beards, cutoff tees, skinny jeans, leather jeans, skinny leather jeans, tattoo sleeves, piercings in really unconventional places, and confident strides of "I've been here before" as attendees shredded ridiculous guitar solos, scratched vinyl turntables and completely tore up digital DJ systems as they effortlessly pumped out house beats through the arena. Hi. I'm Dan. I don't have any piercings or tattoos, but I think this shirt is from Old Navy. OK enough about fitting in.
For my live performances, I was able to really dive into the concept of MIDI and its capabilities. If you aren't familiar with MIDI, it's a technology that has been around for quite some time, but is now coming to mainstream music more than ever. It's essentially a fast digital messaging system that triggers events (i.e starting or stopping a loop, queuing a lighting scene, etc) or triggering a waveform and synthesizing any sound that can possibly be dreamt of and modeled in software.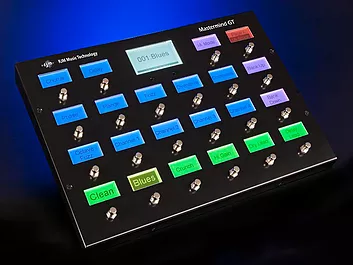 I had the chance to meet with the manufacturers of a very niche, yet completely open MIDI foot controller that I intend to integrate into my shows within the next year. While only a few hundred units of this controller have been sold, the performers that are using it include Muse, NIN, and Dream Theater. I hope they don't mind me crashing their party! My plan is to keep a single digital controller at my feet that will trigger events in Ableton Live software (yes, you'll see a laptop on my stage in the near future) and make my sound much more manageable for a sound technician in the booth.
As I need to stream all of my instruments and microphones into my computer and also have multiple output channels, searching for a fast, powerful audio interface was also a challenge. I had to balance my requirements for low latency, I/O connectivity, audio quality, and aesthetics, and in the end, I think I found a great new tool that will serve as a crucial part of the new DQB- check out the Focusrite Clarett 8pre!
I also had the chance to test drive some of the great advances in DJ tools, and as expected, Pioneer DJ continues to shine as the industry leader! While I mostly lend my DJ services to weddings, corporate events, and private parties, Pioneer really continues to lead the pack in technology for everyone from the bedroom DJ to the world touring Club DJ.
I've decided to move off of the Native Instruments (NI) Traktor platform in favor of Pioneer's Rekordbox System along with a DDJ-RX controller. Rekordbox is an amazing tool that will allow me to easily dig deeper into my music library and pull out old gems that I may have forgotten about, and seamlessly integrate them into my sets with smooth transitions. With its system for tagging, key matching, tempo matching, and track rating, coupled with the complete, low latency hardware control, I can confidently say that DQB DJ sets are about to level up!
Finally, while NAMM may be about gear, gear, and more gear, it's really about the music that gets produced with that gear. I had the chance to attend some of the TEC Track sessions that really opened my eyes to so many different approaches to music and the business, and really reminded me why I play music- to make a personal connection with people, to inspire them, and to provide a soundtrack to a given moment in their lives.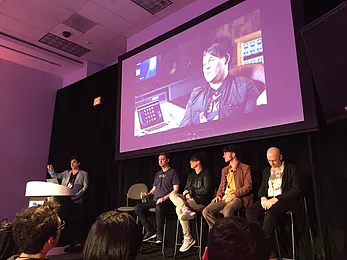 One panel that I had the chance to attend specifically focusedon next generation instruments and how live performances are changing because of them. While it was legendary producer and godfather of trance BT who drew me to the session, there were equal contributions from ROLI founder Roland Lamb, "Controllerism" guru and instrument inventor Moldover, and Dream Theater keyboardist Jordan Rudess. These guys are so much more than just musicians. They're innovators with minds that are always looking to create the next sound, or even more so, helping others to create their own sounds. As BT said, "I feel so lucky to be alive in a time where ideas that were dreamed up by my compositional heroes can now become a reality".
So as I left the convention center and boarded my plane back to Dallas, I felt a little sad that it was all over, but more importantly, I was so excited to get home and start implementing all that I've taken in. I've placed some orders for new gear and can't wait to start working on it this week! I learned so much, and was inspired to be a better musician, take my performances to new heights, and maybe try out some new ideas. Stay tuned for updates here on the blog, as well as on my Facebook page where I'll always be sharing the latest & greatest developments with the DQB.
Cheers!
DQ