This past weekend I had the pleasure of playing DJ, MC, and Fairytale Scene Maker at Alyssa & Bobby's Wedding in McKinney, TX.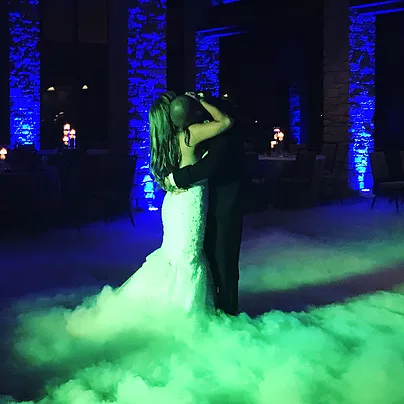 Along with my assistant Nick, we put together an incredible spectacle for these two and their guests! The Stonebridge Ranch Country Club had these stone pillars that were just begging for uplights, and when combined with a dry-ice based "Dancing on the Cloud" Effect, the room was truly magical.
We used the cloud for the grand entrance. Metallica's Enter Sandman was blasting and the lights flashing to the tempo of the kick drum made the room feel like it was shaking as we brought in the flower girls, ring bearer, and each member of the bridal party with a little story that had the guests laughing and excited to get the party started!
We went into the first dance, and then brought the cloud out again at the end of the night for the Sweetheart Dance- a really nice tradition where the bride and groom have a private last dance with all of their guests out of the room. Wedding days (and months of planning) can be hectic, and I love this special "we did it" moment to cap off the night.
Thanks so much to Alyssa and Bobby for choosing DQB Entertainment for your big day! We wish you all the best on your journey together!
DQ