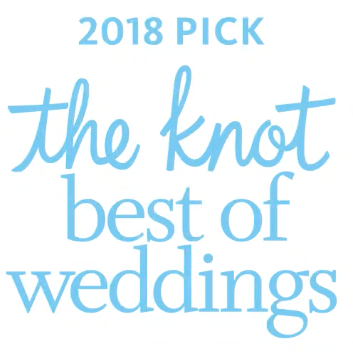 DQB received some great news today and for the second year in a row has been named "Best of Weddings" by TheKnot.com, the world's largest wedding website where newly engaged couples can find everything they will need to make their big day a a magical one.
This year's win is extra special in that DQB won the award in TWO categories- as both a Dallas Wedding Band and a Dallas Wedding DJ.
The awards are determined based on real reviews from real couples who I have worked with in the past year, and I couldn't be happier with what some people had to say. Here are a few excerpts from reviews received in the past year:
Words can not express our love for Dan Quinn. After meeting with another DJ and not feeling that it was the right fit, we were referred to Dan. He was prompt and professional in getting back with us and after a few short email/text conversations we decided to meet with him to seal the deal. Dan asked all sorts of questions ranging from our taste in music to how we met. It was clear from the start that he truly cared about our wedding day and us as a couple. Throughout the entire process, Dan was easily one of our most interactive vendors making the process effortless and stress-free. So much so in fact, that we hired him for our rehearsal dinner too! After a coffee meeting, lunch conversation and numerous FaceTime chats we finally nailed down all the important details for our wedding. Our rehearsal day came and Dan showed up early to set up, and once he was finished he helped our groomsmen set up our venue!!! What a guy!! From kids sneaking cupcakes to lending one of his boots for our "dollar dance" Dan was all over it! Our wedding weekend would not have been easy without Dan and we are so happy to have chosen such a wonderful DJ who made so much of the process a breeze!
Laura & Robert – Blum, TX – November 2016
My wife and I were so thrilled and completely satisfied with choosing Dan to perform at our wedding reception! Although we do not typically hire entertainment, I can personally say that Dan does it the right way...First, Dan was VERY professional and personable....Second, Dan is extremely adaptable.,,Third, he also plays very well live. I cannot tell you how many people came up to me during and after the reception to say something like "Wow, he's doing a really good job!" and more. My father, a musician by hobby and majored in music in college, said Dan was fantastic. Please consider Dan for your wedding. He met and exceeded all of our expectations and he is a wonderful guy. Thanks Dan
Sam & Sara – Fort Worth, TX- May 2017
Anna & I couldn't be happier with our decision to hire Dan to DJ and emcee our wedding - he's a consummate professional, an outstanding performer and just a really fun guy to be around. He did everything we asked and coordinated with our other service providers with a very positive attitude, he kept the energy level high throughout the entire evening, and he really worked hard to make sure all our guests had a blast. In large part thanks to Dan we had a really amazing wedding - one that our friends and family will remember forever. He has our most enthusiastic recommendation
Brian & Anna – TX- Delaney Vineyards- September 2017 (via The Knot)
Dan Quinn is AMAZING! I am still getting texts about the night and how Dan made the wedding so much fun! from the planning to the day of our wedding, Dan is professional yet treats you like family. I will use Dan again for any party i have in the future.
Danielle & Robert- June 2017 – 2616 Commerce (via The Knot)
It's really such an honor to have these couples trust me with one of the biggest days of their lives, and with weddings already booking up for 2018, it promises to be another great year here in the Dallas/Fort Worth area.
If you've ever worked with DQB before and would like to leave your own review on The Knot, be sure to do so and help DQB win again in 2019!
Thanks so much,
DQ