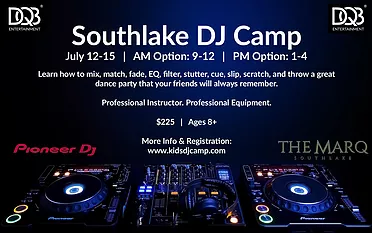 I'm so excited to share my latest musical venture, focused on kids and the community- I've opened a DJ Camp for kids in the Dallas/Fort Worth area!
This is an idea that's been on my mind for quite a while now. As a dad, a stepdad, and a guy who just plays a lot of events with kids on hand (weddings, birthdays, etc), I've realized that kids really want to learn how to DJ. They hear DJs on the radio, see DJs on TV, play with DJ apps on their phones and iPads, and even talk about being a DJ when they get older. One kid told me he just needed to "wear his hat backwards and get all the girls to like him". Oh boy…I'm gonna have my hands full!
While there are a plethora of places to take guitar lessons, piano lessons, and voice lessons, there seems to be an absence of DJ schools in the area- and I wish that I had one! Teaching myself was no easy task, but as I learned skill after skill, I realized that a structured program could actually make learning to DJ a much easier process.
So here it is, the coolest summer camp of 2016, right here in Southlake, TX!
The Details:
July 12-15, 2016
The Marq- Southlake, TX
AM Session: 9 AM – 12 PM (Register Here)
PM Session: 1 PM – 4 PM (Register Here)
We'll be using all new Pioneer DJ controllers- no, we won't jump right into 4 CDJs and a DJM, but we'll be using Rekordbox software and some all-in-one controllers from Pioneer that will allow the kids to get on the right platform right from the start. Pioneer has been around for a long time and isn't going away anytime soon- so the skills that they learn in this camp will apply all throughout their development as a budding DJ.
We'll have laptop computers loaded with music. Kids are certainly welcome to bring any of their own music on a USB stick, but it's certainly not necessary.
Everyone will get a pair of headphones that they may keep at the end of class after their showcase set! Yes, that's right, every kid will have the opportunity to present a short set on the last day of class- parents, siblings, and friends will all be welcome to come watch- and dance!
Email any questions to dan@danquinnband.com. Register at https://dqb.eventbrite.com.