Earlier this month, DQB Entertainment provided all of the entertainment for a unique wedding at The Hotel Crescent Court in Dallas.
Couple: Jordan & Graham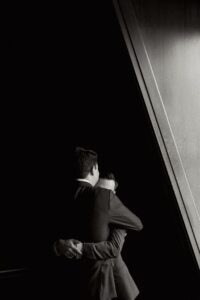 Venue: The Crescent Club
Planning & Design: Allday Events
Photo: Jeff Brummett
Floral: Branching Out Events
Live Music, DJ, & MC: DQB Entertainment (Dan Quinn, Marquise Jones, Dalene Richelle, Andrew Webber)
********
Jordan & Graham didn't want a conventional hotel ballroom wedding with guests seated around a dance floor and a conventional timeline. They essentially wanted a progressive dinner party with different musical chapters in different rooms that ultimately culminated in an after party which would be a completely different experience- in yet again, another room. But they were a little shy about it at first. The original plan was to create more of a speakeasy atmosphere without a designated dance floor. Where people "might dance a little bit, just wherever they are". But then I started to hear about their college friends, med school friends (Jordan is a dermatologist) and flight school friends (Graham is a pilot) and now the true guest demographic was starting to take shape. But there were other hints dropped as well. "We generally like hanging out with people that are older than us". Noted. Oh, and also, instead of bringing out the ever so popular Glow wands, Jordan & Graham would be bringing out a table of 70+ wigs for their guests to wear as they let their hair down.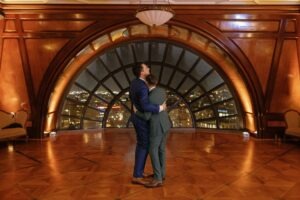 So after a classic cocktail hour with Mad Men speakeasy vibes (with Marquise Jones playing jazz standards on saxophone), and a two room dinner serenade by Dalene Richelle on piano and vocals (they're huge Fleetwood Mac fans), we moved into the After Party Space.
We heard some short (as they always should be) toasts from a few special guests, cut their wedding cake, danced the Hora, and then it was go time!
I started my set with a focus on the female pop artists that Graham, Jordan and their guests love so much- but also reaching further back to classics that their older guests would enjoy (think more Gloria Gaynor and Belinda Carlisle than Ariana Grande and Olivia Rodrigo).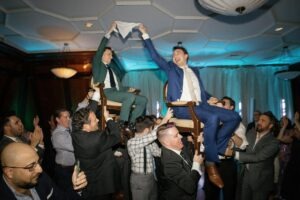 But this crowd was going harder than I expected. And then the wigs came out. And when we dropped into a mashup of Lady Gaga's "Rain on Me" with Axwell & Ingrosso's "Calling" Remix, we knew it was time to pull out all the stops. Marquise (saxophone) and I pulled out CO2 guns from behind the curtain and when the drop hit, surprised the crowd with a double blast of icy clouds that brought cheers and screams of euphoria from the 175 guests.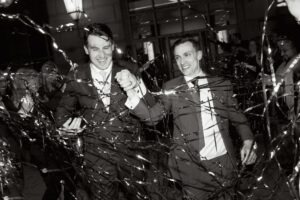 And as always, I recorded the set in its entirety. It felt different. It wasn't a conventional wedding set. So I listened back to it a few times over the course of the next week and decided that it needed to be shared for others to hear. Upon posting it to Mixcloud, it quickly climbed the ElectroPop charts and peaked at #6 a few days later. The 45 minute mix is very high energy and makes a great workout mix too.
Be sure to tune in and have a listen, and share with your friends as well!
Also, be sure to subscribe to DQB Entertainment on Mixcloud to be notified when new mixes are posted. Not only do I share live recordings from private events, but also curated mixes such as Seasonal favorites and special compilations such as the Workout series I made for Orangetheory Fitness.