What. A. Year.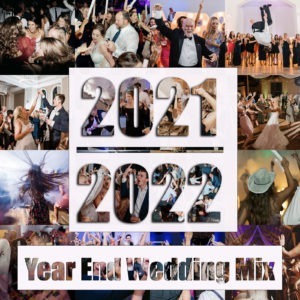 So many packed dance floors, cryo blasts, sweaty hugs, and epic nights. 
I wanted to end the year by putting out this mix of music that I saw dominate wedding dance floors over the past year, and show promise as we head into 2022. 
I saw some great trends in music this year as the couples that I work with so often want a set that hits a little harder than most. And the genres were all over the place. 
Latin music (especially reggaeton) is hotter than ever- and not just at hispanic weddings.
Female rappers like Megan Thee Stallion, Saweetie, and Doja Cat are making waves with some serious bangers.
Social media (specifically TikTok) and internet memes have given rise to new artists and routines, and have breathed new life into older artists as well. 
The EDM wave that swept the US in 2011 is now 10 years old- formative music for couples who are now just getting married. Bouncy house beats are back too, and I'm 100% here for it!
For those who prefer to rock, post-punk pop is bigger than ever, and emo kids are finally getting their moment on the wedding dance floor. 
And for parents of couples? They're going harder than ever as I see artists like Metallica showing up on my "must play" lists. 
I had a blast making this mix and hope you enjoy it. It makes for a great workout too!
Click here to listen on Mixcloud.
See you on the dance floor in 2022.
-DQ