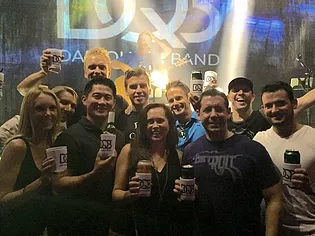 I realize that I'm about two weeks late with this post, but I'm still flying high after the recent show we played at the Vulcan Gas Company (VGC) in Austin, and I have a few shout-outs that I need to share! Having played this Unofficial NI Week conference party in some form or another since 2008 (minus a hiatus in 2014), the 8th edition of this party was probably my favorite to date. It's so satisfying to look back on these 9 years and to see how we've grown from the Irish Pub where we started, to the big, hot outdoor courtyard, and now to a legit state-of-the-art music venue like the VGC.
The VGC staff was possibly the best club crew that I've worked with. Before I was even inside the door, sound engineer Adam was asking me questions about my monitoring setup and doing everything that he could to make my "one man band" sound crystal clear. He made adjustments that I wouldn't have thought of, and was a total pro on the Funktion-One sound system- a total treat to play through!
Gabe King and his lighting team have added some new technology to the VGC as well, and I must say I've never played in front of a spectacle like this before! The team was open to the suggestions we made from last year's party, adjusted immediately, and made the environment one that I was happy to party in myself!
Yes, that's right, I actually got to enjoy the part this year. Back in 2008, I used to take this gig on by myself. I'd start playing around 7 or 8 PM and go nonstop (minus a few sporadic guests) until I just couldn't play anymore or it was time to shut the place down. I had some 6 hour sets in there for sure! Call me old, but I prefer this new format much better.
Drew Pierce took the stage at 8:30 and did such a fantastic job opening the show- not just musically, but energetically. It's been awesome to watch him grow as a singer and a performer, and to see him staying so busy on the Austin events scene. He really warmed up the room! My wife and I rolled into the venue at 9 PM and the place was already jumping. The room was full from the beginning, and stayed that way all night. What an awesome way to start the night!
Throughout the show, I really felt like we were all just hanging out at somebody's house. Everyone was so relaxed and fun, and we replaced the "show" vibe from the previous year with the "party" vibe this year. As performers, Drew, Paul & I all agreed to stay super casual and comfortable. We donned t-shirts and shorts, hung out in the crowd, passed out DQB koozies to keep everyone's beer cold, and the results showed. It was a relaxed, fun environment, yet packed wall-to-wall and so well produced!
Finally, I'd be remiss if I didn't mention the DJ and one of my best friends, Paul Mandeltort. This guy absolutely KILLED it at the end of the night with a bangin' funk set that kept the late night partygoers dancing until closing time. His set was packed full of funk and NuDisco, new and old, and he created a club vibe that is so hard to find here in the US.
Thank you so much to everyone who was involved in this party! With the NI Week conference moving to May, we'll certainly be in talks with the conference organizers to fit a spring edition of this party in however we can.
Stay tuned for more details to come!
DQ